2019-2020 CSP Seminars/Events
Winter 2020
Location: Mondays 5-6:30 PM in the Ocean Health Building Classroom (118) *unless otherwise noted*
February 10:Dr. Juliano Calil, Middlebury Institute of International Studies at Monterey, and Joel Hersch, Swan Dive Media (Coastal Innovations Connecting VR with Science Communication)
*February 14: Dr. Hoyt Peckham, Director General, SmartFish (OHB Library, 10:30-11:30AM)
February 24: Dr. Austin Humphries, University of Rhode Island (Linkages of fisheries ecology, management, & nutrition in Kenya)
March 2: Dr. Ryan Anderson, Santa Clara University (Conservation, sustainability, & development along the California coast (in Mexico and the US))
*March 9: Tony Rinaudo, Senior Climate Action Advisor World Vision Australia, 2018 Right Livelihood Award Laureate and Commandeur de Merite, Agricole, Rep. du Niger (co-hosted evening public talk with Right Livelihood College, location to be announced)
Spring 2020
Location: Mondays 4-5:30 PM in the Ocean Health Building Classroom (118)
March 30: Timothy McClanahan, Senior Conservation Zoologist, Wildlife Conservation Society (Democratizing Fisheries)
April (date TBD): Elliott Hazen, Associate Researcher & Assistant Adjunct Professor, IMS, National Marine Fisheries Services, EEB
April 27: Leandra Regina Gonçalves
Mark your calendar for March 6th, 2020!
Where: Kuumbwa Jazz Center, 320-2 Cedar Street, Downtown Santa Cruz
When:
5:00 p.m. Doors Open
5:30–7:30 p.m. Event
Free and open to the public – get there early as it was standing room only last year…
*Patrick Cage, Coastal Science and Policy M.S., Diversifying blue livelihoods through holistic ocean farming in Kenya and the Gambia
*Abel Mkulama, Coastal Science and Policy M.S.,  How briquets can prevent deforestation and save lives in Malawi
*Melissa Cronin, (CSP Designated Emphasis) Ecology and Evolutionary Biology Fishing for Conservation Solutions to Protect a Threatened Ocean Giant
Carver Bierson, Earth and Planetary Science Exploration at the edge of the solar system
Amanda Carbajal, Molecular, Cellular, and Developmental Biology Prion Proteins and Their Role in Evolution and Life on Earth
Ricky Garza Girón, Earth and Planetary Science Finding the hidden earthquakes of a large volcanic eruption
Elizabeth Goldman, Psychology To Share or Not to Share
Kyuhyun Han, History Seeing the Forest Like a State: Forest Management, Wildlife Conservation, and Center-Periphery Relations in Northeast China, 1949–1988
Katie Hellier, Physics Investigation of fluorescent dyes for power generation greenhouses
Tori Klein, Chemistry and Biochemistry Using zombie insects to find a cure for cancer
Jessie MNG Lopez, Molecular, Cellular, and Developmental Biology Who Interprets the Genome?
Justin Luong, Environmental Studies Preserving California Grasslands
Past Events:
September 30: Gary Griggs (CSP Affiliate Faculty), Mike Beck and Borja Reguero (CSP Adjunct Faculty)
October 4: Cal Academies Screening of Expedition Reef w/Borja Reguero
October 11: Dr. Yuwei Shi, Professor,  Middlebury Institute of International Studies
October 21: Dr. Dan Costa, Dr. Kristy Kroeker, and Dr. Raphe Kudela speaking about their contributions to the IPCC report on oceans and climate
October 28: Dr. Adina Paytan, Research Professor, Institute of Marine Sciences, CSP Affiliate Faculty, UCSC, speaking about her biogeochemistry research and recent publication on corals surviving in lower pH waters
November 4: Dr. Max Henrion, CEO, Lumina Decision Systems, Inc.–From Controversy to Consensus: Decision Analysis of Decommissioning Offshore Oil Platforms
November 6th: Cards Against Catastrophe with Tiffany Wise-West (City of Santa Cruz)
November 18: Julie Packard (combined session with BIOE 165 Class)
November 25 (1:45 – 3:15pm): Dr. Erika Zavaleta (CSP Core Faculty) and Dr. Bernie Tershy (CSP Affiliate Faculty), UCSC
December 2 (4-5:30pm): Documentary Screening-Pacificum
January 6th: Pivot training, UCSC Office of Research
January 13: Dr. Elena Finkbeiner, Conservation International Center for Oceans
January 27: Dr. Mike Orbach, Professor of the Practice Emeritus of Marine Affairs and Policy at Duke University
January 28, Mark Massara, Sustainable Coastal Advocate
February 3: Rhett Butler, Founder Mongabay
Coastal Science and Policy is Co-hosting a World Without Salmon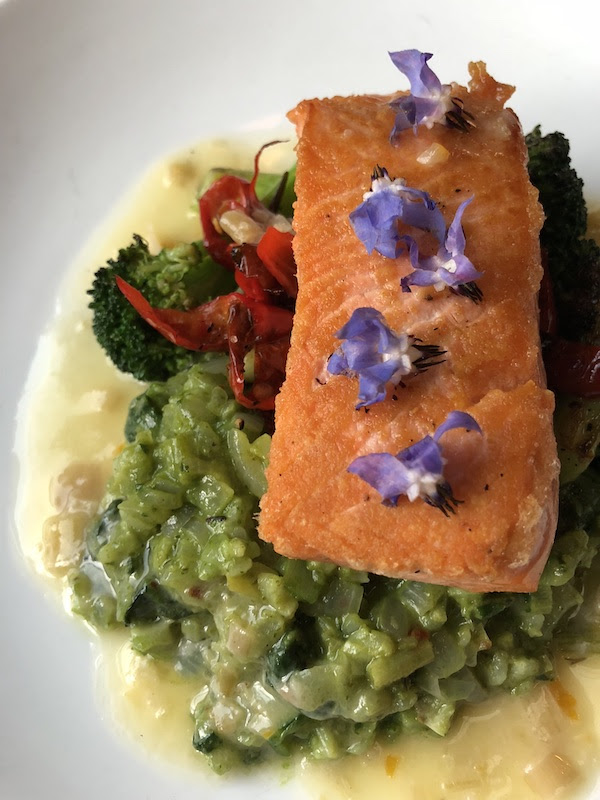 Tues, Oct 15 | Soif, 105 Walnut Ave. Santa Cruz | 6:30pm. $75 + $25/wine pairings.
Can you imagine a world without salmon? We can't! To learn more about the future of the world's favorite fish, come listen to NOAA fisheries director and salmon expert Steve Lindley for Soif's Sustainable Coastal Communities series. He will be joined by fishermen Ian Cole and Charlie Lambert of Ocean2Table for a lively discussion. Soif chef Tom McNary will prepare a multi-course meal using just-caught local seafood that they provide.  soifwine.com