2020-2021 CSP Seminars/Events
Fall 2020 Seminars
Location:
All

held via Zoom **Times vary, but typical sessions are on Tuesdays 4-5pm**
November 10: Dr. Katherine Seto, Core Faculty in Coastal Science & Policy and Environmental Studies
November 17: Faculty Panel–Get to know the Coastal Science & Policy Faculty-Dr. Eric Palkovacs, Dr. Adina Paytan, and Dr. Kerstin Wasson
November 30 (

Monday, 3-3:45pm

): Get to know the Coastal Science & Policy Faculty-Dr. Gary Griggs and Dr. Karen Holl
December 8: Final Speaker To Be Determined
Interested in joining one of our fall seminars, please email Sarah @ csp@ucsc.edu with the seminar title and date. 
Winter 2021 Seminars
Register here. Sessions held via Zoom
When: Mondays 4-5/4-5:30pm, unless otherwise noted (*)
January 4: Dr. Tsegaye Nega, Professor, Carleton College (Innovation and Stove Project)
January 11: Radhika Malpani, Former Googler and entrepreneurial advisor
January 18: Martin Luther King Jr. Day *No Seminar*
January 25: Justin Cummings, Mayor Santa Cruz and Founding Program Director, UCSC Doris Duke Conservation Scholars Program (linkedin)
February 1: Dr. Katerina Oskarsso, Chief Strategy Officer, RISE Resilience Innovations

February 8th: Dr. Lindsey Dillon, Affiliate Faculty in Coastal Science & Policy and Assistant Professor of Sociology
February 22: Stephanie Webb, UCSC Ph.D. Candidate; Topic-Geographies of Seafood: a mixed methods assessment of politics, commerce and agency in America's small-scale commercial fisheries
March 1: Sarah G. Newkirk, Coastal Conservation Director, The Nature Conservancy California; Topic-TNC Coastal Resilience Work and Innovations
March 8th: Final Speaker To Be Determined
Spring 2021 Seminars
Register here. Sessions held via Zoom
April 19: Dr. Megan Kelso, NatureNet Science Postdoctoral Fellow
Spring seminars will rum from Monday, April 5 to May 24; Final Speakers To Be Determined
(Final Date to Be Determined): Elliott Hazen, Associate Researcher & Assistant Adjunct Professor, IMS, National Marine Fisheries Services, EEB
CSP Virtual Open Houses
Applications for the 2021 Cohort open on October 1. If you are planning to apply, please join us for one of our Virtual Open Houses. During the session, hear from current students and program leadership.  We'll be taking questions from the audience and discussing topics such as: unique solutions focus of the program, practical experience gained as a CSP student, coursework, funding, application process, and student experience.
Tuesday, 1 December from 10-11 AM Pacific
To register for the final session, please fill out the following form.
On Monday, June 8th and Tuesday, June 9th, the CSP Program held final capstone presentations.
To view each student's recorded presentation, visit here.
Past Events:
2020-2021
October 8 (

Thursday, 1:25-3pm

): Dr. Ayana Elizabeth Johnson, Founder of Urban Ocean Lab, a think tank for the future of coastal cities, and founder and CEO of Ocean Collectiv, a consulting firm for conservation solutions
October 13: Faculty Panel–Get to know the Coastal Science & Policy Faculty-Dr. Erika Zavaleta, Dr. Pete Raimondi, and Dr. Borja Reguero
October 19: Dr. Xavier Basurto, Duke University **Seminar Cohosted with ENVS-12-1pm**; Topic- Intersection of subsistence fishing, food security and social justice in a global context (seminar information here)
October 27: Dr. Don Croll, Core Faculty in Coastal Science & Policy and Ecology and Evolutionary Biology; Topic- Seabird Conservation
November 3: Faculty Panel–Get to know the Coastal Science & Policy Faculty- Dr. Daniel Costa, Dr. Kristy Kroeker, and Dr. Chris Edwards
2019-2020
September 30: Gary Griggs (CSP Affiliate Faculty), Mike Beck and Borja Reguero (CSP Adjunct Faculty)
October 4: Cal Academies Screening of Expedition Reef w/Borja Reguero
October 11: Dr. Yuwei Shi, Professor,  Middlebury Institute of International Studies
October 21: Dr. Dan Costa, Dr. Kristy Kroeker, and Dr. Raphe Kudela speaking about their contributions to the IPCC report on oceans and climate
October 28: Dr. Adina Paytan, Research Professor, Institute of Marine Sciences, CSP Affiliate Faculty, UCSC, speaking about her biogeochemistry research and recent publication on corals surviving in lower pH waters
November 4: Dr. Max Henrion, CEO, Lumina Decision Systems, Inc.–From Controversy to Consensus: Decision Analysis of Decommissioning Offshore Oil Platforms
November 6th: Cards Against Catastrophe with Tiffany Wise-West (City of Santa Cruz)
November 18: Julie Packard (combined session with BIOE 165 Class)
November 25 (1:45 – 3:15pm): Dr. Erika Zavaleta (CSP Core Faculty) and Dr. Bernie Tershy (CSP Affiliate Faculty), UCSC
December 2 (4-5:30pm): Documentary Screening-Pacificum
January 6th: Pivot training, UCSC Office of Research
January 13: Dr. Elena Finkbeiner, Conservation International Center for Oceans
January 27: Dr. Mike Orbach, Professor of the Practice Emeritus of Marine Affairs and Policy at Duke University
January 28, Mark Massara, Sustainable Coastal Advocate
February 3: Rhett Butler, Founder Mongabay
February 10: Dr. Juliano Calil, Middlebury Institute of International Studies at Monterey, and Joel Hersch, Swan Dive Media (Topic: Coastal Innovations Connecting VR with Science Communication)
February 14: Dr. Hoyt Peckham, Director General, SmartFish
February 24: Dr. Austin Humphries, University of Rhode Island (Topic: Linkages of fisheries ecology, management, & nutrition in Kenya
March 30: Timothy McClanahan, Senior Conservation Zoologist, Wildlife Conservation Society (Topic: Democratizing Fisheries)
May 4: Stacy Jupiter, WCS Melanesia Director, 2019 MacArthur Fellow, and UCSC Alumnae (Topic: A systems approach to watershed management for health and well-being)
May 6: Speaker: Xiao Recio-Blanco,  Director, Ocean Program. Environmental Law Institute (Topic: Ocean Governance and Law)
May 11: DG Webster, Associate Professor, Environmental Studies Program, Dartmouth College (Topic: Beyond Panaceas in Global Fisheries (Article here)
Oct. 15, 2019 The Coastal Science and Policy Program Co-hosted a World Without Salmon Dinner and Discussion with Soif!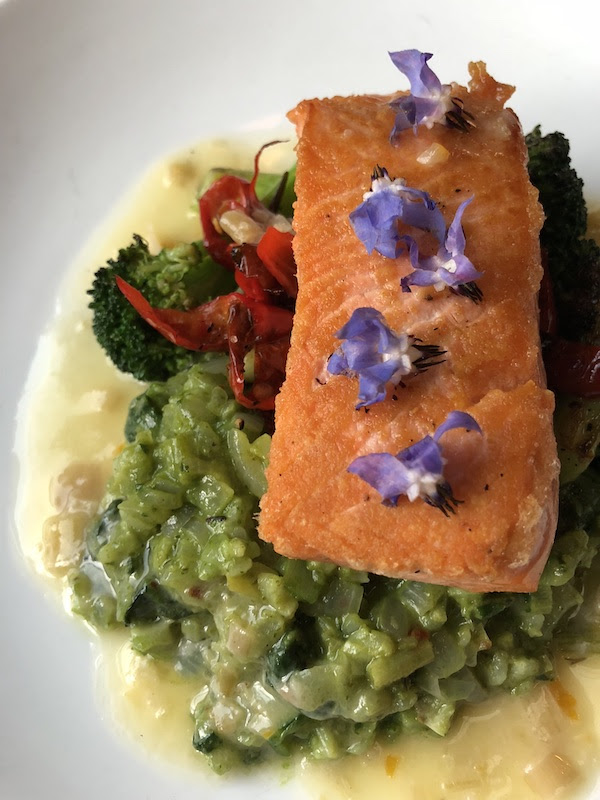 Can you imagine a world without salmon? We can't! Participants learned more about the future of the world's favorite fish. They heard from NOAA fisheries director and salmon expert Steve Lindley. Steve was joined by fishermen Ian Cole and Charlie Lambert of Ocean2Table. Following short talks by each, the dinner opened up for a lively discussion.
For each dinner series Soif chef Tom McNary has prepared delicious multi-course meals using local ingredients and typically featuring our purveyor speaker's products.
POSTPONED
*In response to COVID-19 restrictions, we have postponed this Sustainable Coastal Communities Dinner on Urban Agriculture*
Speakers:
Stacy Philpott, Executive Director of the Center for Agroecology and Sustainable Food Systems (CAFS) at UCSC
Darrie Ganzhorn, Executive Director of the Homeless Garden Project
Ella Fleming, Farm Manager of the Homeless Garden Project
Evening features a three-course menu created by Soif Chef Tom McNary featuring all vegetarian dishes. $80 per person; $90 with wine pairing (tax and gratuity included). Doors will open at 6:30pm for wine and passed appetizers. The dinner will begin promptly at 7:00pm.